Hi, we are Daniel and Alex, the founders of It's Court Time.
Our mission is pretty simple: we're here to help you get to know the ins and outs of tennis like the back of your hand. We've put in a ton of work, digging into all kinds of research, getting advice from the pros, and even drawing from our own experiences on the court. All of this is just to make sure we give you the lowdown you need to really up your tennis game.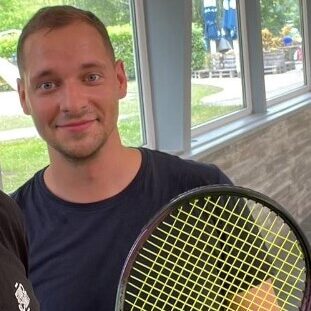 Alexander Krause
Article Writing, SEO
"Tennis ist not just a sport, it's a mental chess match on the court that challenges me to constantly strategize, adapt, and outsmart my opponent. That's why I love it!"

Daniel Ruschitzka
Social Media Management
"Tennis has been a constant companion in my life for the past two decades, and its enduring appeal lies in its ability to challenge me physically and mentally while providing an ever-evolving avenue for self-improvement."
Take a look through our articles – they're like a treasure trove of tennis tips and knowledge. No matter if you're just getting into the sport and need to grasp the basics, or if you've been playing for a while and want to fine-tune your skills, we've got you covered.
We're talking about everything from the history of tennis, to how different courts can totally change your strategy. Whether it's your first time holding a racket or you've aced your fair share of matches, we've got something for everyone.
So, if you're curious about serves, backhands, or you just want to understand what's going on next time you watch a match, we've got your back. Our goal is to help you dive into the world of tennis, appreciate its nuances, and give you the foundation you need to really enjoy every moment on the court.
Get ready to soak up all things tennis with us – the secrets to becoming a true tennis aficionado are just a click away.
GET IN TOUCH
We hope you find all the information you were looking for on our site. If not, feel free to contact us: